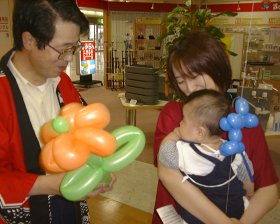 They opnened "The Tendo family support center" at the first floor of Tendo station building "Palte."

This is a membership system consisted of both the people who want to help with child bringing up and the people wanting to help with. If they utilize this service, it becomes possible to have children take care after school still a father / a mother goes home, go with and pick up children at a day cursery, etc. I think that this is very convenient for a nuclear family that both a father and a mother work together.

After a ceremony from 10:00 a.m., they have hold a memorial event. They present flowers and animals of a pencil balloon, cotton candy, a chocolate banana, etc. The event place seems to have become a fair.
More Infomation...


Tendo family support center

TEL +81-023-658-8121





Open


From 9:30 a.m. to 5:00 p.m. (From Tuesday to Sunday)


Closed


Every Monday(if it is holiday, next day), the end of the year beginning of the year


Fee


600 yen per a hour (from 7:00 a.m. to 7:00 p.m.)

800 yen per a hour (on Saturday and Sunday, above over time)